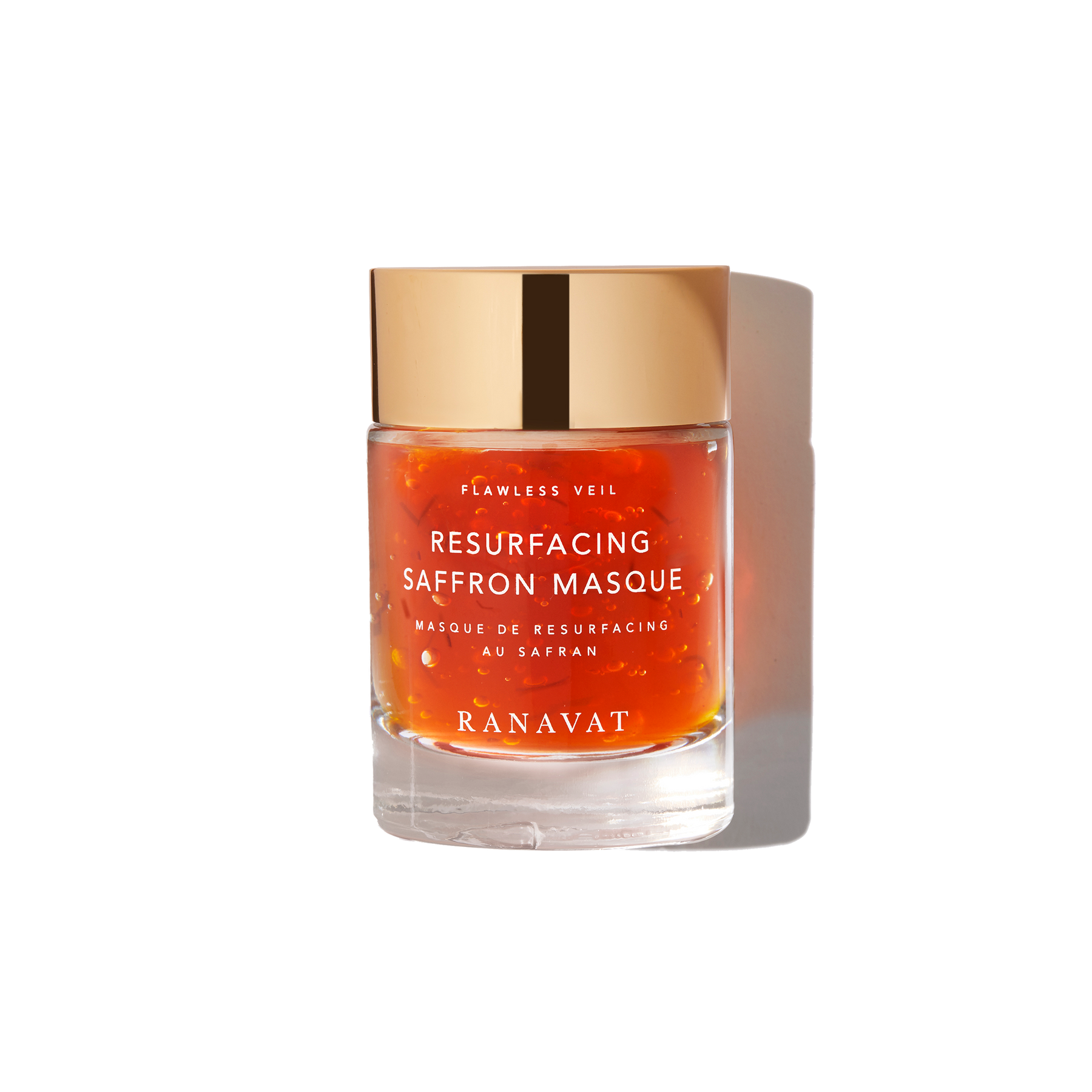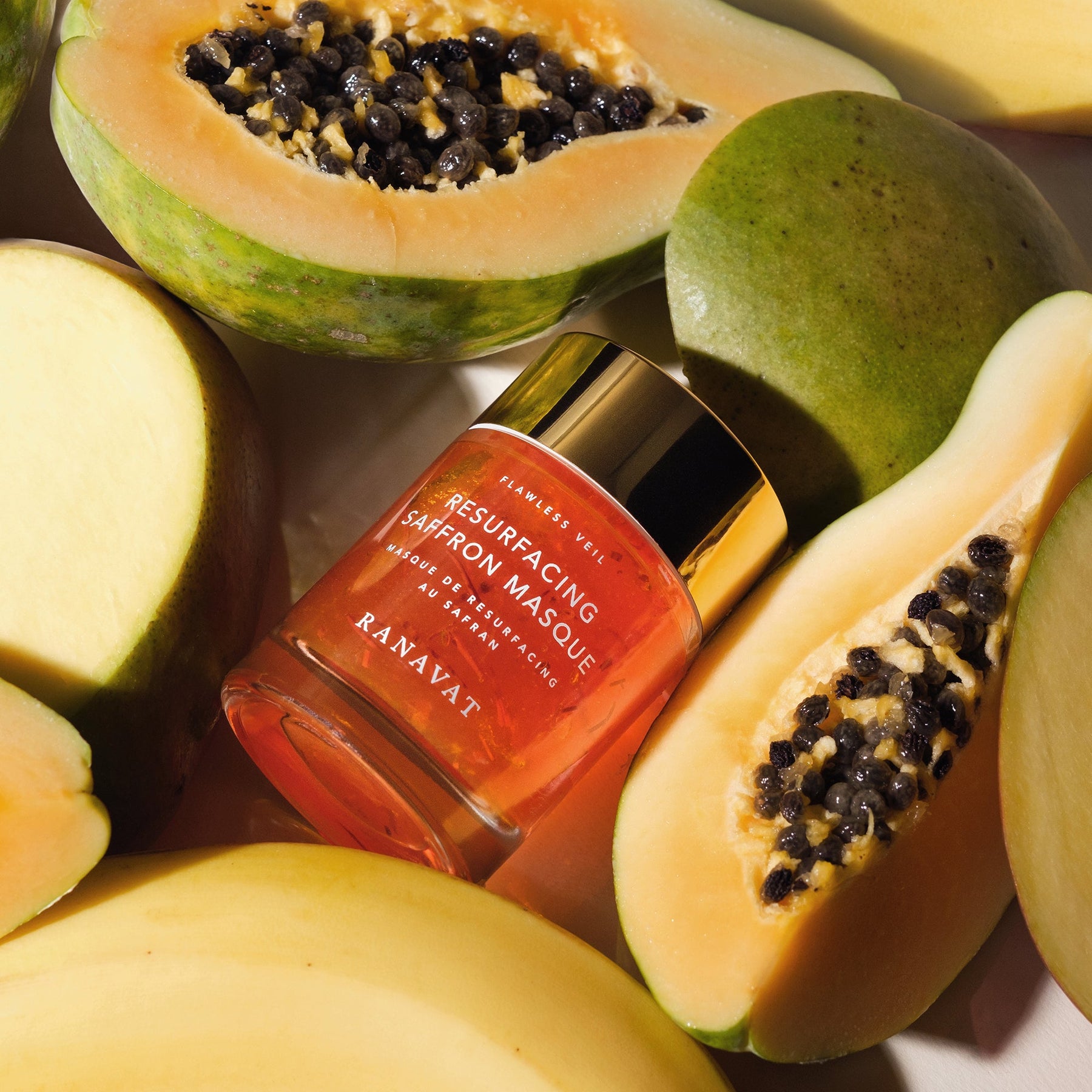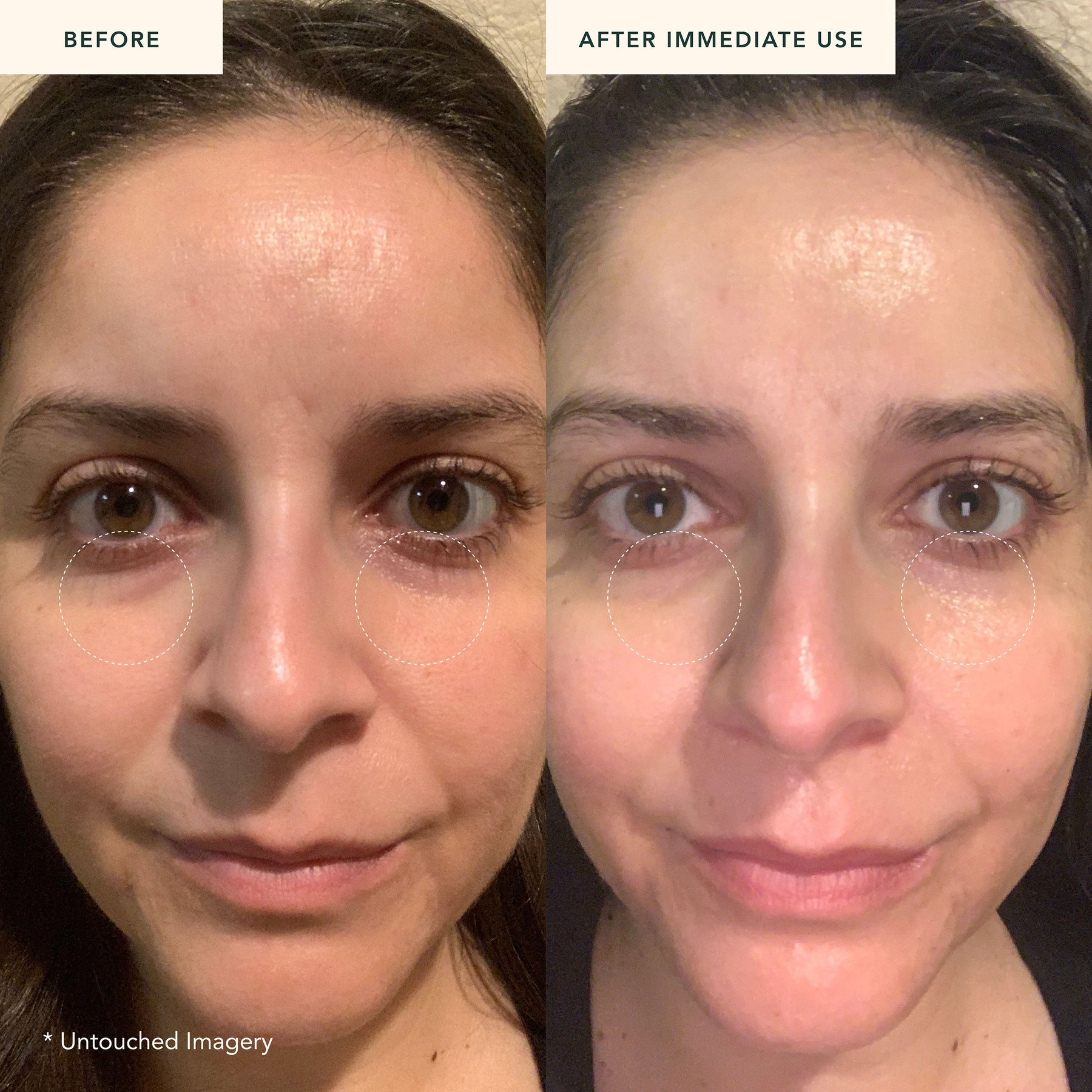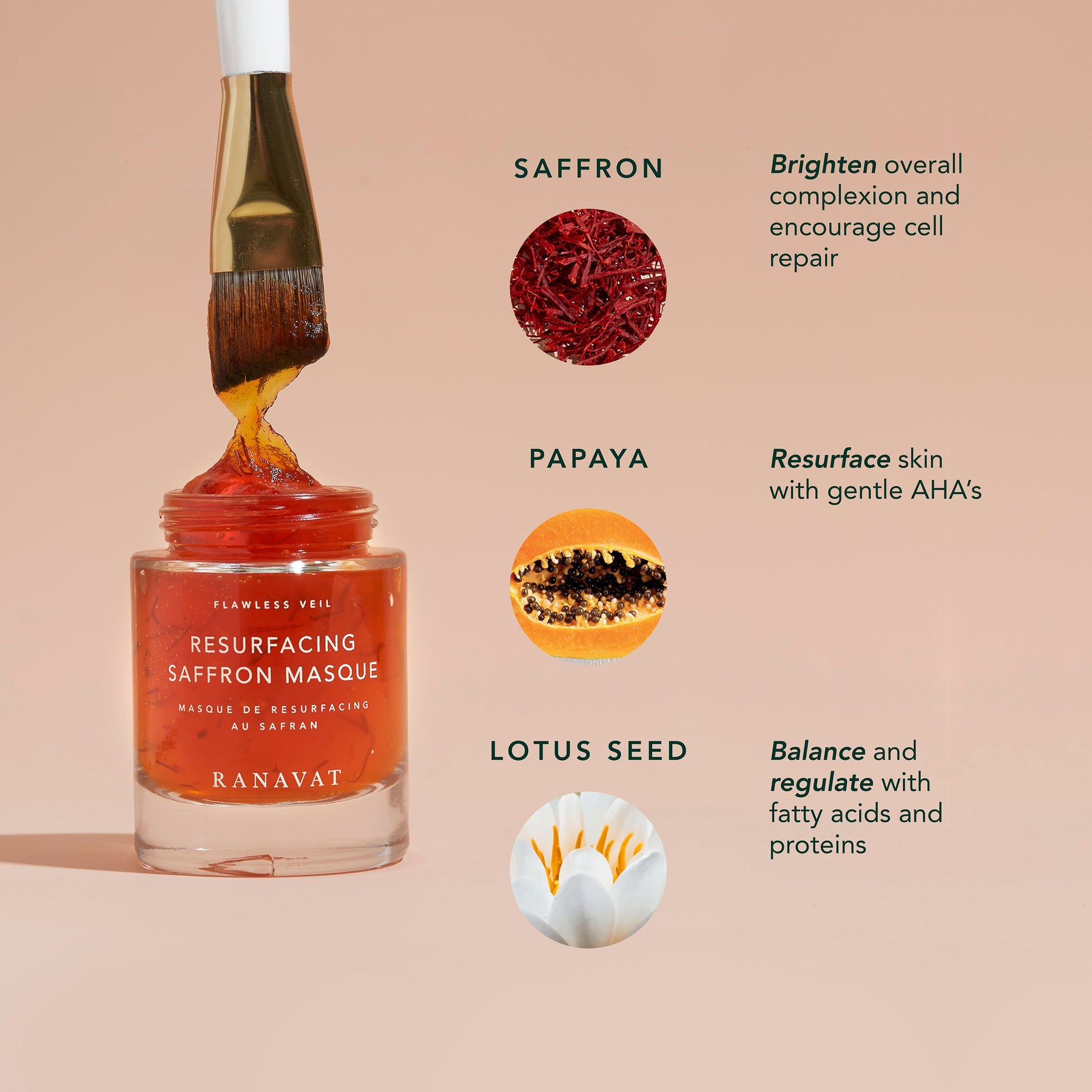 Resurfacing Saffron AHA Masque
Reveal glowy radiant skin in under 2 min with this indulgent resurfacing masque. Fruit-derived AHAs and Papaya Enzymes gently resurface to remove dull dry skin. The cooling jelly and suspended saffron threads make this masque a royal treat for your skin. In a clinical study, 81% of subjects experienced an increase in radiance and luminocity after immediate use.
Clinically Proven formula I Pregnancy Friendly I Each bottle is infused with real saffron threads.
Ingredients
Resurfacing Saffron AHA Masque  
Aloe barbadensis Leaf Juice, Glycerin**, Fruit Enzymes [ Water/Eau, Glycerin, Spondias Mombin Pulp Extract, Mangifera Indica (Mango) Pulp Extract and Musa Sapientum (Banana) Pulp Extract], Dehydroxanthan gum**, Saccharide Isomerate**, Dehydroacetic Acid, Benzyl Alcohol, Rubia Cordifolia (Manjistha), Turmeric (Curcuma Longa), Papaya Enzyme (Papain), Saffron (Crocus Sativus), Lotus Seed (Nelumbo Nucifera) and Licorice Root (Glycyrrhiza Glabra).
**Vegetable Derived
A brightening and exfoliating mask, powered by AHAs to gently exfoliate and energize dull, dehydrated skin. Clinically proven to improve skin radiance.
RANAVAT Real Results
In an independent clinical study of 32 subjects, after immediate use:
Demonstrated a highly significant statistical improvement in skin tone
Demonstrated a highly significant statistical improvement in skin luminosity and radiance
In a consumer perception study of 33 participants, after immediate use:
100% agree skin looks refreshed and renewed
100% agree skin feels soft and smooth
82% agree skin is brighter
FAQ's
How Long Do I Keep The Masque On For?
Our Resurfacing Saffron AHA Masque needs 2-5 minutes to effectivley activate for visible results. If you are new to chemical exfoliation we recommend leaving on for 2 minutes maximum. As you continue use and your skin becomes familiar with application, you can incrementally build up to 5 minute application for renewed skin.
Can I Pair The Masque With Imperial Glow?
While both treatments effectively exfoliate - we encourage limiting to one form of exfoliation each day (either chemical or physical) to avoid over exfoliation and damaging the skin barrier.
What Skin Benefits Can I Expect?
Our Resurfacing Saffron AHA Masque is clinically proven to improve skin tone and radiance in one use for renewed skin with each application.
Clinically Proven, Ayurvedic, Infused with Saffron
GOOD FOR

All skin types (even oily)

Optimized For

Instant Luminosity

Feels LIKE

A cooling moment of radiance

FYI

Clean, Cruelty Free, Vegan, Optimized for all skin types
Application
Brightening Saffron AHA Masque
Use once a week on cleansed skin to boost radiance
APPLICATION
Apply a generous layer to face and neck once a week. Leave for 2 min and rinse with cool water. Follow with the Brightening Saffron Serum for skin that looks brighter and more even skin immediately.
Reveal Your Radiance
Keeps clogged pores at bay and gently resurfaces dull and dry skin.
1. Saffron. An ingredient known to reduce inflammation, and combat signs of aging due to its antioxidant-rich properties.
2. Lotus Seed. Packed with vitamins, minerals, and antioxidants the nutrients in lotus seed replenish the skin.
3. AHA + Papaya Enzyme. Fruit Acids (Mango, Mombin and Banana) gently brighten the complexion and help prevent future breakouts
Our Ayurvedic Process
Cooling aloe and adaptogens create a unique self-correcting masque that delivers results.
In true Ayurvedic philosophy, this masque still delivers results while being gentle. Use it once a week to keep your skin at its healthiest.
AWARD WINNER: NewBeauty 2022 Award Winner for Best Resurfacing Mask
"This potent serum meets oil works wonders on dry ends."
FORBES
"...the first Ayurvedic shampoo and conditioner that is clinically tested to regenerate and transform hair beginning at the root of hair health to the scalp."
THE ZOE REPORT