The award-winning serum clinically proven to reduce the appearance of hyperpigmentation
This brightening serum with saffron and turmeric is clinically proven to reduce fine lines and wrinkles, revealing radiant, healthy-looking skin.
AFTER 4 WEEKS, CUSTOMERS REPORTED:
100%
demonstrated a highly significant reduction in fine lines and wrinkles
93%
felt skin looks more radiant and dewier
*Observed results, self-assessment by scoring, 32 subjects, 4 weeks.
Visibly reduces fine lines and wrinkles
Targets hyperpigmentation and dark spots
Our best selling serum is clinically proven to target dark spots, visibly firm, and improve your complexion. Named one of Vogue's "Best Serums" in 2021, 2022 and 2023. Unlock royally radiant skin.
How to Use
Massage onto cleansed face, neck, and décolleté while skin is still damp, or following Royal Refresh (sold separately). Use as part of your morning and evening skincare ritual. You can also use our saffron-based serum as a primer or mix it with your foundation for a dewy finish.
Key ingredients
Sesame Oil (Sesamum Indicum)*, Rice Bran Oil (Oryza Sativa), Caprylic/Capric Triglycerides**, Manjishta (Rubia Cordifolia)*, Saffron ( Crocus Sativus),  Lodh Tree Bark (Symplocos Racemosa)*, Nutgrass (Cyperus Rotundus)*, Vetiver (Vetiveria Zizanoides)*, Licorice Root (Glycyrrhiza Glabra)*, Bay Leaf (Cinnamomum Tamala)*, Himalayan cherry (Prunus Cerasoides), Lotus seed (Nelumbo Nucifera), Pushkarmool (Inula Racemosa), Turmeric(Curcuma Longa)*, Indian Barberry (Berberis Aristata)*, Cobra Saffron (Mesua Ferrea)*, Flame Of The Forest (Butea Menosperma)*, Priyangu (Callicarpa Macrophylla)*, Banyan (Ficus Bengalensis), Mustard (Brassica Campestris)*, Tocopherol+, Rose Essential Oil (Rosa Damascena).
*Certified Organic, **Vegetable derived, +Derived from non-GMO soy
Cruelty Free I Non-GMO I Palm Free I Synthetic Fragrance Free I Vegan 
Best Skincare!
This Serum is gold! I always wanted to try it but the price point drove me away - UNTIL a friend gifted it to me. I'm so happy she did because it's worth every penny & every drop. It has cleared, brightened & brought my skin back to life. I use 3 drops with my regular moisturizer, daily & it's the perfect combination. The serum gives me a luxurious feel - the packaging is beautiful; the scent is to die for; the color is beautiful; the texture of the serum is divine. I've been recommending it to EVERYONE. I recently bought this for my sister in law & she's also hooked. I just purchased my second bottle, so cheers to many more. This is my holy grail!
- Mukti A
Saffron: Targets hyperpigmentation while brightening the skin
Turmeric: Soothes irritation and inflammation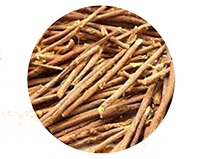 Licorice Root: Reduces dark spots, evening complexion
Saffron: Targets hyperpigmentation while brightening the skin
Turmeric: Soothes irritation and inflammation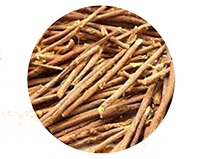 Licorice Root: Reduces dark spots, evening complexion
"The star of burgeoning brand Ranavat's Ayurvedic-inspired line, this serum is causing quite the stir thanks to its potent brightening powers"
Harper's Bazaar
I've learned first-hand that working with only the essentials yields noticeable results. My distinct aesthetic and thoroughly researched formulations give way to each strategically-picked botanical.
When it comes to creating my blends, I prefer taking the long road. Each ingredient is methodically extracted, preserved for its healing properties, and secured for your skin's benefit. Essentially, it's the melding of modern chemistry and romance.
Need product guidance?
Reach out to our Concierge team for product guidance or routine recommendations.