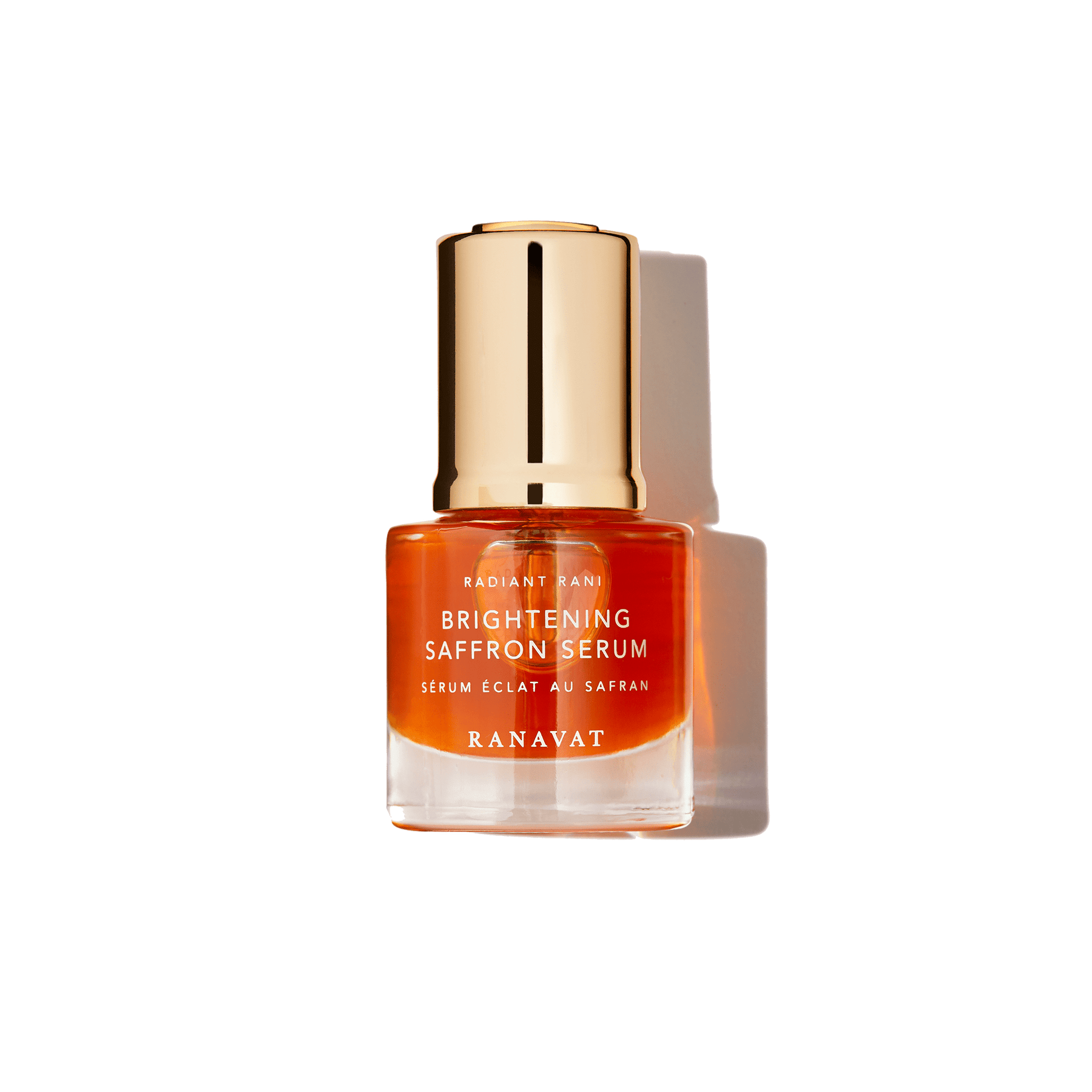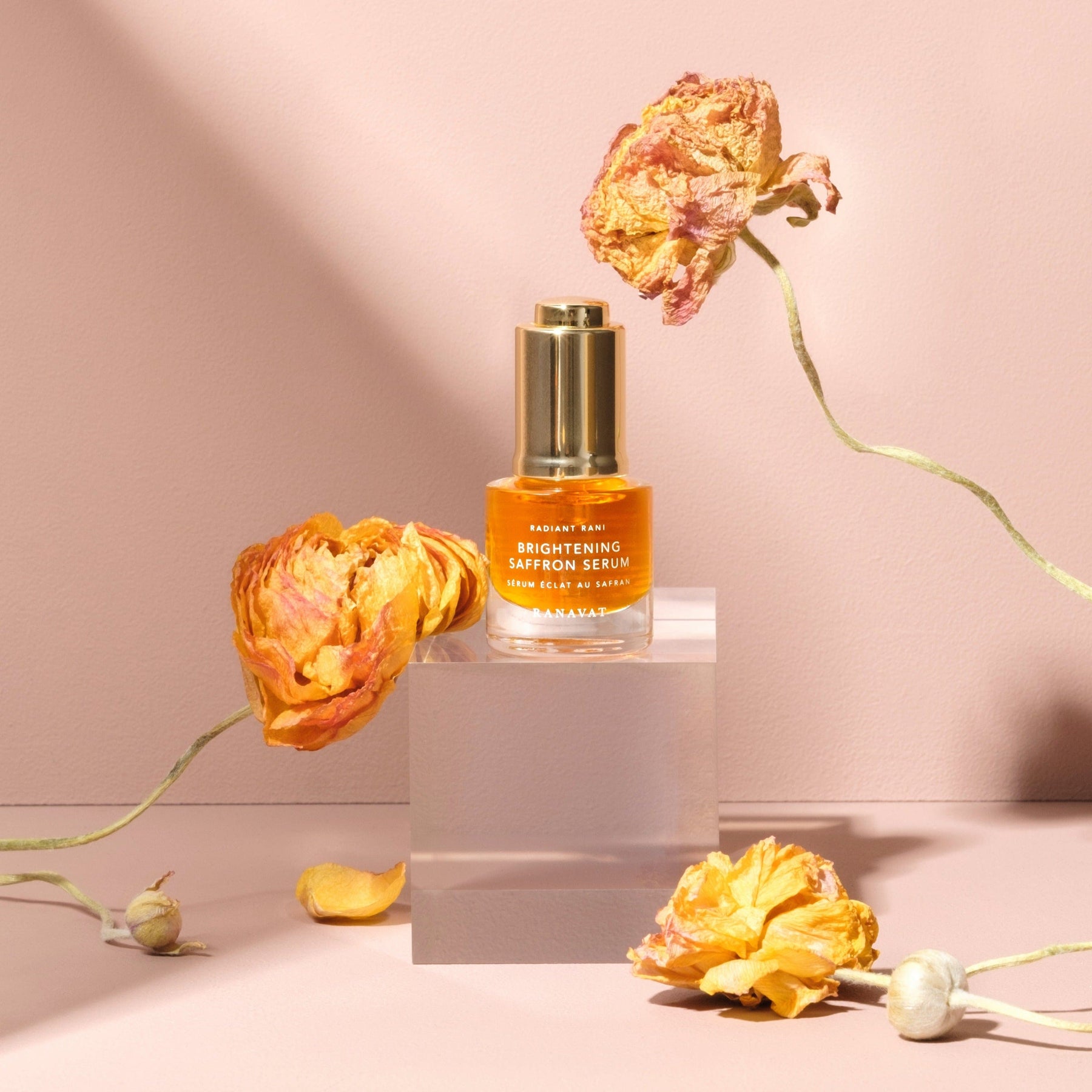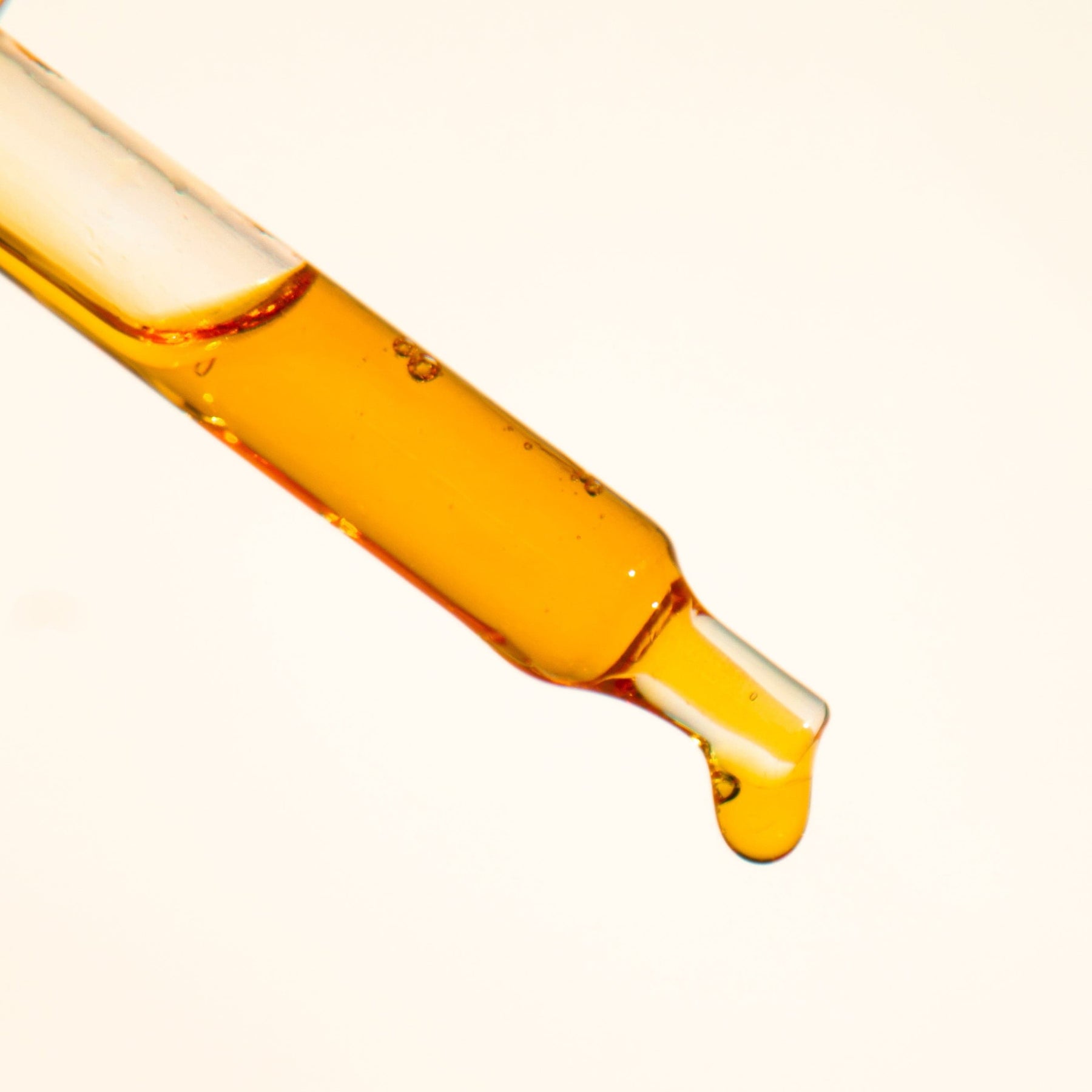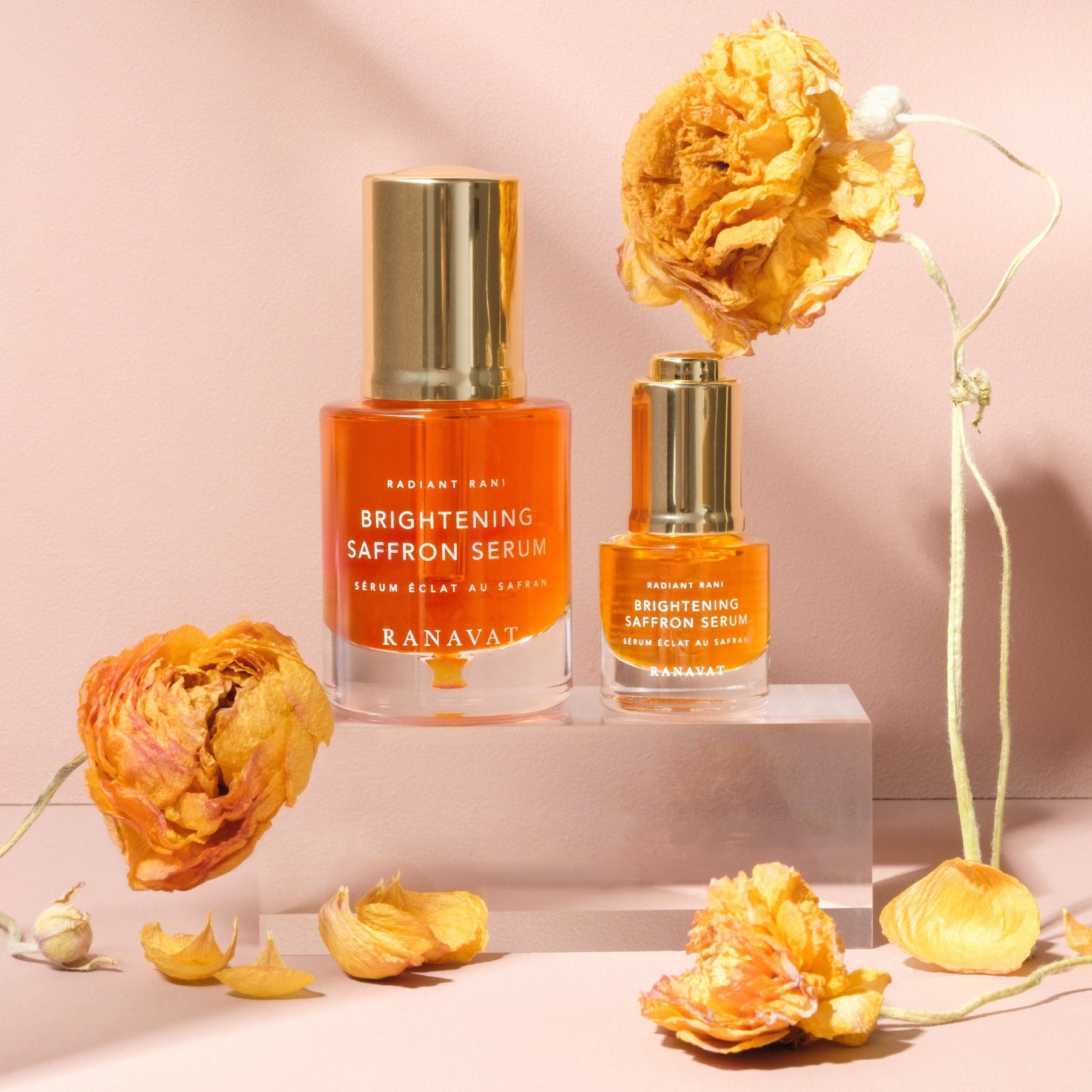 Brightening Saffron Serum Mini (5mL)
Upgrade your Vitamin C to this saffron-infused super serum that targets the appearance of fine lines and dark spots. This powerful oil-based serum is made in India using a traditional 18 day Ayurvedic infusion process for maximum potency. This serum is formulated for all skin types including oily, acne prone skin and sensitive skin types.
Ingredients
Brightening Saffron Serum  
Sesame Oil (Sesamum Indicum)*, Rice Bran Oil (Oryza Sativa), Caprylic/Capric Triglycerides**, Manjishta (Rubia Cordifolia)*, Saffron ( Crocus Sativus),  Lodh Tree Bark (Symplocos Racemosa)*, Nutgrass (Cyperus Rotundus)*, Vetiver (Vetiveria Zizanoides)*, Licorice Root (Glycyrrhiza Glabra)*, Bay Leaf (Cinnamomum Tamala)*, Himalayan cherry (Prunus Cerasoides), Lotus seed (Nelumbo Nucifera), Pushkarmool (Inula Racemosa), Turmeric(Curcuma Longa)*, Indian Barberry (Berberis Aristata)*, Cobra Saffron (Mesua Ferrea)*, Flame Of The Forest (Butea Menosperma)*, Priyangu (Callicarpa Macrophylla)*, Banyan (Ficus Bengalensis), Mustard (Brassica Campestris)*, Tocopherol+, Rose Essential Oil (Rosa Damascena). 
 *Certified Organic, **Vegetable derived, +Derived from non-GMO soy 
Our best selling serum is clinically proven to target dark spots, visibly firm, and improve your complexion. Use this Vitamin C alternative to unlock royally radiant skin. Named one of Vogue's "Best Serums" in 2021, 2022 and 2023.
RANAVAT Real Results
Reported after immediate use:
100% agree their skin feels hydrated and nourished
97% agree their skin is more radiant and dewier
97% agree the serum absorbed quickly into the skin
*In a consumer study of 30 subjects
FAQ's
Is this a vitamin C serum?
Our proprietary formulations contain pure saffron, superseding traditional vitamin C noted for its natural and superior stability properties. Saffron is high in antioxidants and protecting against free-radicals.
Can I Use If I Have Oily Skin?
The Brightening Saffron Serum is ideal for all skin types - including those who experience ample oil production. Combat excess oil production by adding Brightening Saffron Serum into your routine to nourish.
Clinically Proven, Ayurvedic, Infused with Saffron
GOOD FOR

All skin types (even oily)

Optimized For

Dark spots + fine lines

Feels LIKE

A yummy dessert (saffron + rose)

FYI

Clean, Cruelty Free, Vegan, Optimized for all skin types
Application
Brightening Saffron Serum
Use AM + PM on cleansed skin in place of your Vitamin C
APPLICATION
Massage 2-3 drops of the saffron serum on skin + neck twice a day. Follow with Bakuchi Creme for added hydration.
3 Reasons to upgrade your Vitamin C
1. Stability. The anti-oxidants in the saffron serum are not photosensitive and work better for longer.
2. Multi-benefits. Instead of targeting dark spots only, the saffron serum helps prevent the appearance of fine lines too. It's never too early to start preventing the signs of aging and this serum is a perfect place to start.
3. No irritation. Many skin types can't tolerate traditional Vitamin C formulas, the saffron serum is gentle (but still effective) for radiant skin.
Our Ayurvedic Process
The Saffron Serum is made in India using traditional Ayurvedic practices to enhance its biodynamic properties. Over 18 days, this precious serum is infused with the world's most expensive spice resulting in a unique treatment you have never experienced before.
"This potent serum meets oil works wonders on dry ends."
FORBES
"...the first Ayurvedic shampoo and conditioner that is clinically tested to regenerate and transform hair beginning at the root of hair health to the scalp."
THE ZOE REPORT