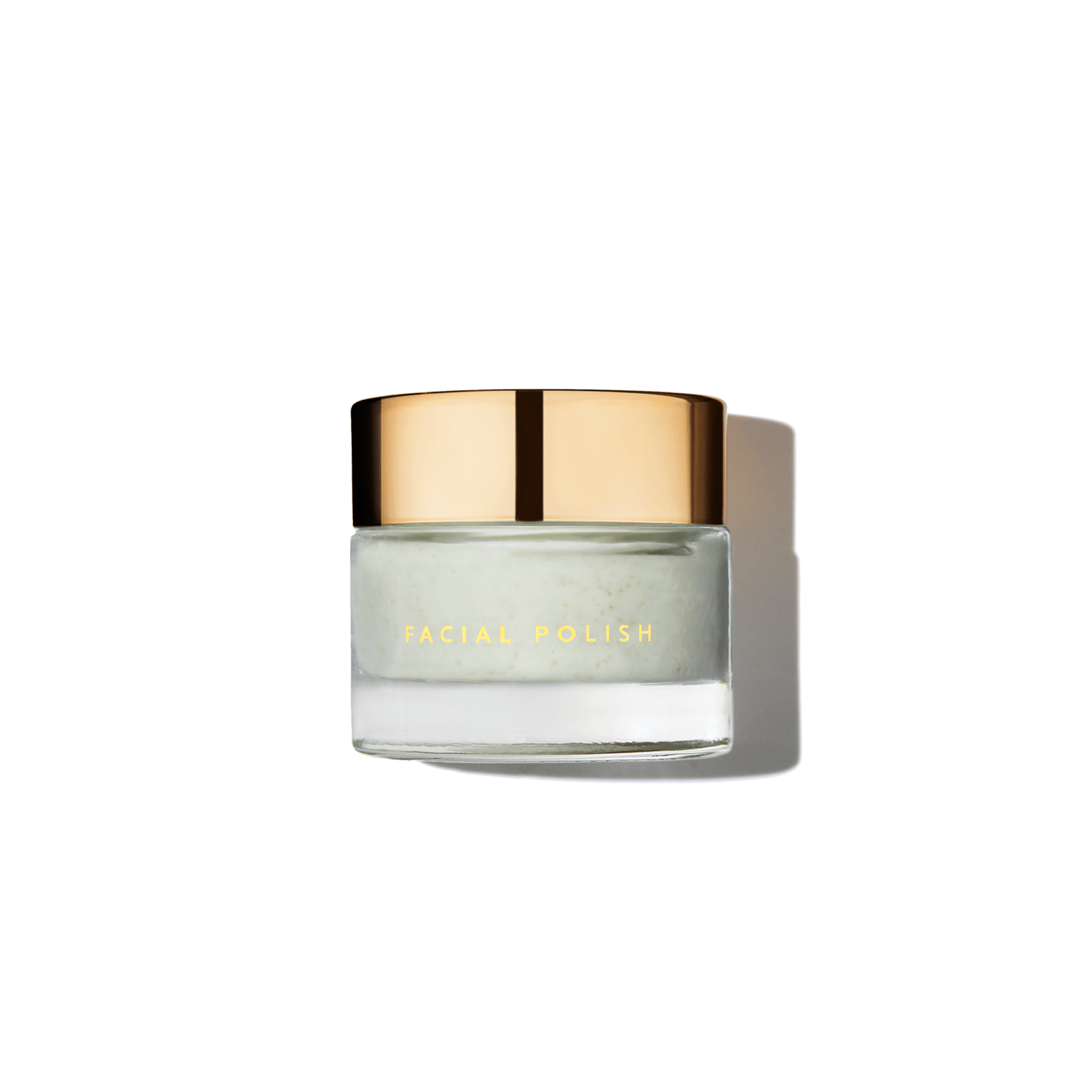 Facial Polish Mini
Imperial Glow
A gentle exfoliator that effectively buffs away dead skin cells, uneven skin texture, and impurities
Why You Need This
**Mini size of Imperial Glow Facial Polish**
Powered by finely milled rice powder and repairing ashwagandha, this exfoliator leaves skin soft and reveals ultimate radiance.

AWARD WINNER: Bustle 2022 Beauty Award for Best Exfoliating Cleanser, Women's Health 2021 Beauty Award for Best Physical Exfoliator

FAQ's
Can I Use A Physical and Chemical Exfoliant Together?
Depending on your skin type we advise exfoliating with our Facial Polish 2-3 times a week with the possibility of buidling up tolerance to daily use. As you incorporate the gentle exfoliant into your ritual we advise not exfoliating on the same day with a chemical and physical exfoliant.
I Have Acne - Can I Use This Product?
Formulated for all skin types, Imperial Glow can be used on those who experince acne. You can dilute the intensity of exfoliation by increasing the water added as you gently exfoliate, stimulating cell renewal.
Can This Be Used Instead of A Facial Cleanser?
While Imperial Glow has cleansing properties - for a more intense clarifying and purificaiton treatment we recommend Luminous Ceremony to effectively remove makeup and impurities.
PRO TIP: Flash Masque
For an instant at home facial for renewed radiant skin, pair our Facial Polish with our Brightening Saffron Serum – Radiant Rani.
Take a dime size amount of Imperial Glow and gently mix in a few drops of the Saffron Serum. Massage gently into the skin in counter clockwise motions to eliminate dead skin cells while encouraging skin renewal. Add water incrementally, the more water added the more diluted the solution will be for those with sensitive skin types.
How to Use
Gently massage a generous amount onto dry skin, using circular motions, avoiding the eye area. Add warm water to emulsify and rinse clean.
Use one to three times per week for best results.
Ingredients
Water (Aqua/Eau), Vegetable Glycerin**, Cetearyl Alcohol**, Cetearyl Glucoside**, Sesame Seed (Sesamum Indicum) Oil*, Ashwagandha (Withania Somnifera)*, Lotus Flower (Nelumbo Nucifera), Sugandh-bala (Valeriana Brunoniana), Licorice Root (Glycyrrhiza Glabra)*, Indian Sarsparilla (Hemidesmus Indicus), Cobra Saffron (Mesua Ferrea)*, Green Cardamom (Elettaria Cardamom), Black Cardamom (Amomum Subulatum), Yellow-fruit nightshade (Solanum Xanthocarpum), Badi Kateri (Solanum Indicum Linn), Triphala Powder [Amla (Emblica Officinalis), Bibhitaki (Terminalia Bellirica), and Haritaki (Terminalia Chebula)], Nutgrass (Cyperus Rotundus), Himalayan Cherry (Prunus Cerasoides), Punarnava (Boerhavia Diffusa), Glyceryl Stearate**, Rice (Oryza Sativa) Powder, Cetearyl Olivate**, Sorbitan Olivate**, Sweet Almond (Prunus Amygdalus Dulcis) Oil, Dehydoacetic Acid, Benzyl Alcohol, Acacia Senegal Gum**, Xanthan Gum**, Tocopherol+, Geranium (Pelargonium Graveolens Flower) Essential Oil, Rose Essential Oil (Rosa Damascena), Sodium Benzoate, Chlorophyll.
*Certified Organic, **Vegetable Derived, +Derived from non-GMO Soy

Cruelty Free I Non-GMO I Synthetic Fragrance Free I Vegan 
Ways to Enhance Your Ritual
The South Asian Blowout
"This potent serum meets oil works wonders on dry ends."
FORBES
"I noticed the difference—smoother, softer, bouncier hair—the first time I tried them."
GOOP
"...the first Ayurvedic shampoo and conditioner that is clinically tested to regenerate and transform hair beginning at the root of hair health to the scalp."
THE ZOE REPORT