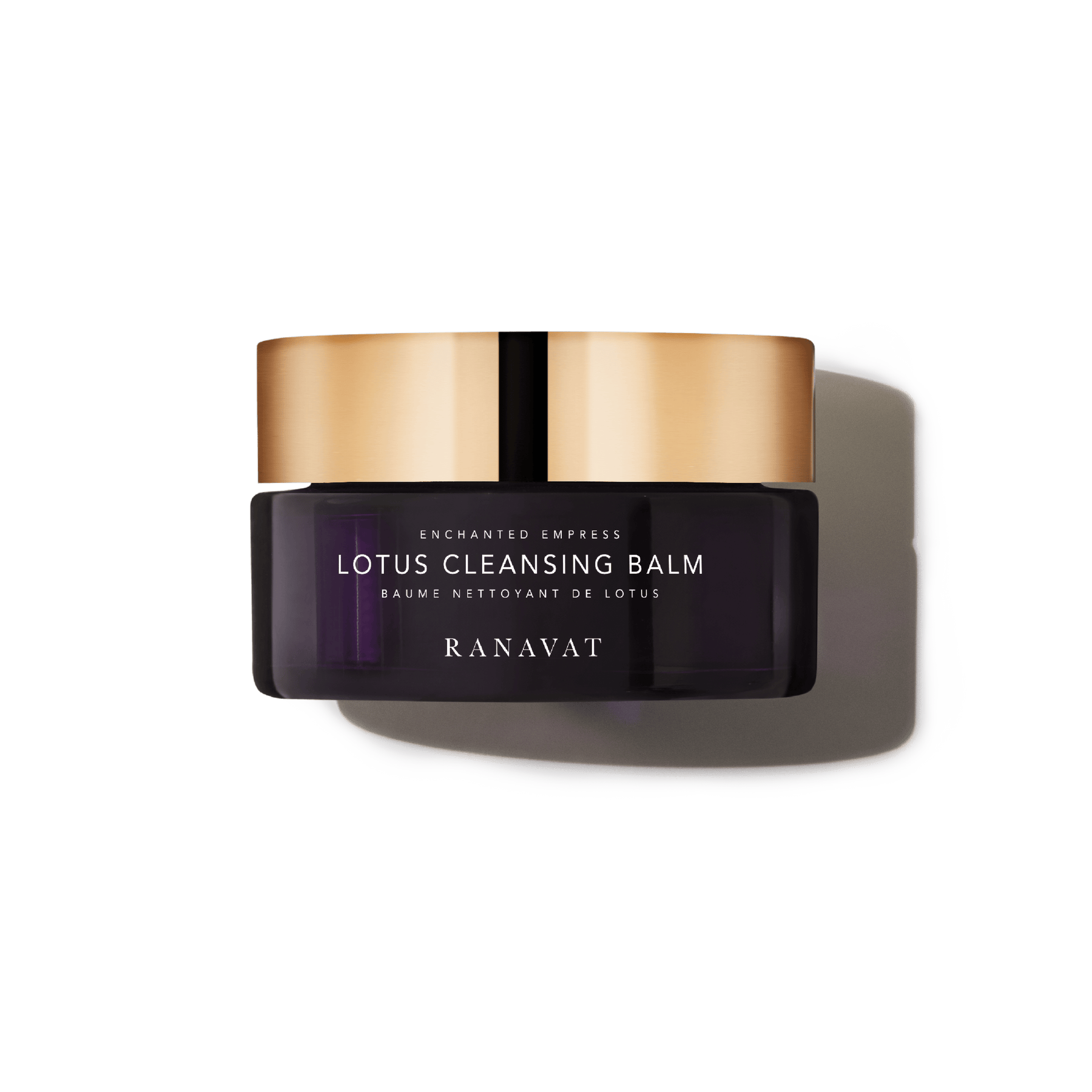 Lotus Cleansing Balm
A purifying cleansing balm that effectively removes makeup, sunscreen, and pollution. The rich, jelly-like custard features mood enhancing notes of Indian Jasmine and Blue Tansy that transform into a milky lather for an immersive cleansing experience.
Blue Tansy + Jasmine I Pregnancy Friendly I Transforms from a gel to a milk and rinses clean.
Ingredients
Lotus Cleansing Balm 
Butyrospermum Parkii (Shea) Butter, Helianthus Annuus (Sunflower) Seed Oil, Polyglyceryl-4 Oleate**, Polyglyceryl-10 Oleate**, Ricinus Communis (Castor) Seed Oil, Euphorbia Cerifera (Candelilla) Wax, Sesamum Indicum (Sesame) Seed Oil, Aqua, Mangifera Indica (Mango) Seed Butter, Nelumbo Nucifera (Lotus) Flower Extract, Glycerin, Tanacetum Annuum (Blue tansy) Flower Oil, Jasminum Officinale (Jasmine) Flower Extract, Hydrogenated Castor Oil, Copernicia Cerifera (Carnauba) Wax, Coco-glucoside**, Glyceryl oleate**, Tocopherol+, Citric acid, Sodium Levulinate, Sodium Anisate**
**Vegetable derived, +Derived from non-GMO soy
A purifying cleansing balm that effectively removes makeup, sunscreen, and pollution
RANAVAT Real Results
In a self-assessment of 45 subjects, after 1 use:
98% of subjects

immediately felt skin was calm and refreshed

93% of subjects

immediately felt skin was soft and smooth

80% of subjects

immediately felt skin was balanced and restored
In a self-assessment of 45 subjects, after 4 weeks:
100%

felt skin looks healthy

93%

felt skin looks radiant

93%

felt skin was hydrated and not stripped of moisture
FAQ's
Why is a cleansing balm good for the skin?
Cleansing balms are oil-based makeup removers that dissolve makeup without stripping your skin. Shea & Mango Butters helps to break down makeup and sunscreen while softening the skin.
Why is cleansing the skin important?
Without cleansing and purifying, your skin would be covered with a thick layer of dirt and oil which makes it difficult for the active ingredients in skincare to penetrate the skin properly. Having clean skin will allow for effective absorption of your skincare products and will make your skin more receptive to treatments that follow like exfoliators, masks, serums, and moisturizers.
When should I cleanse my skin?
Our RANAVAT esthetician recommends cleansing twice a day:
•In the morning to remove excess sebum and dead skin cells accumulated during the night, helping to balance the skin.
•In the evening to purify and cleanse the skin of (makeup, sunscreen, dirt, oil, etc) and better prep skin to absorb skincare treatments. 
Will this leave my skin feeling greasy? Will it leave a residue? Do I need to use another cleanser after this?
The Lotus Cleansing Balm rinses clean, however, we always recommend a double cleanse with our Cream Cleanser for the ultimate royal cleansing experience. Our balm uses high quality oils that nourish your skin and do not clog pores.
Will it sting my eyes? Can I use this on my eyes?
While the formula is gentle for medium makeup, we recommend using a separate eye makeup remover for long wear performance makeup. When cleansing the eyes, we recommend using a cloth or cotton round to gently sweep over the eyes to gently break down the makeup.
How much should I use?
To remove light makeup, start with a dime-sized amount of the Lotus Cleansing Balm on dry hands and dry face. Gently massage onto face and eyes to loosen makeup. Add water to emulsify and rinse. Pat dry with a muslin cloth using light pressure to remove any residual makeup. Follow with Crème Cleanser for second cleanse.
To remove long-wear makeup, start with quarter-sized amount of the Lotus Cleansing Balm on dry hands and dry face. Gently massage onto to loosen makeup. Before adding water, use a cotton round to remove any stubborn eye makeup. Next, add water and emulsify, avoiding the eyes as you rinse. Follow with Crème Cleanser for a double cleanse to soften and smooth skin. For intense eye make-up, using a separate eye makeup remover is recommended.
I have acne prone skin, can I use the cleansing balm?
YES, our RANAVAT esthetician recommends a double cleanse with Lotus Cleansing Balm first to remove makeup and purify, followed by Cream Cleanser to soften and smooth.
Does this cleansing balm contain fragrance?
We do not use synthetic fragrances, only natural ingredients that provide a sensorial experience.
Is the cleansing balm non-comedogenic?
RANAVAT products have been formulated for all skin types, and we do not use comedogenic ingredients in our products.
Is it pregnancy-safe?
All RANAVAT products are pregnancy-safe, however, we recommend consulting with your doctor before starting a new skincare ritual.
How do I recycle the jar?
Remove the cap and rinse out the glass jar. Dispose of the jar in a recycling container while referencing your local city's guidelines. Our RANAVAT team uses the empty jar as a place to hold jewelry, Q-tips, cottons rounds – the possibilities are endless!
Lotus to purify and refresh your skin.
GOOD FOR

All skin types (especially dry)

Optimized For

Double Cleansing

Feels LIKE

A Purifying Moment

FYI

Clean, Cruelty Free, Vegan, Optimized for all skin types
Application
Lotus Cleansing Balm
Use AM+PM to remove makeup, dirt and impurities. To double cleanse first use the Lotus Cleansing Balm and follow with either the Creme Cleanser or Facial Polish.
APPLICATION
Apply a generous layer onto damp skin and massage onto face and neck in circular motions and rinse clean.
Return to Pure Skin.
1. Lotus. Known as a symbol of purity and spiritual awakening in Ayurveda, it rises through murky waters and blossoms into a radiant flower.
2. Tri-Phase. From balm to gel to milk, it transforms into a magical cleanse.
3. Remove SPF and Makeup. The most satisfying moment after a long day is reaching for this cleansing balm and escaping into your calm.
Our Ayurvedic Process
Lotus is one of the most respective ingredients in Ayurveda. Every part is used (petals, roots, seeds, and stem) as a remedy for the skin. The flower yields an antioxidant-rich extract that helps support resilient skin.
"This potent serum meets oil works wonders on dry ends."
FORBES
"...the first Ayurvedic shampoo and conditioner that is clinically tested to regenerate and transform hair beginning at the root of hair health to the scalp."
THE ZOE REPORT