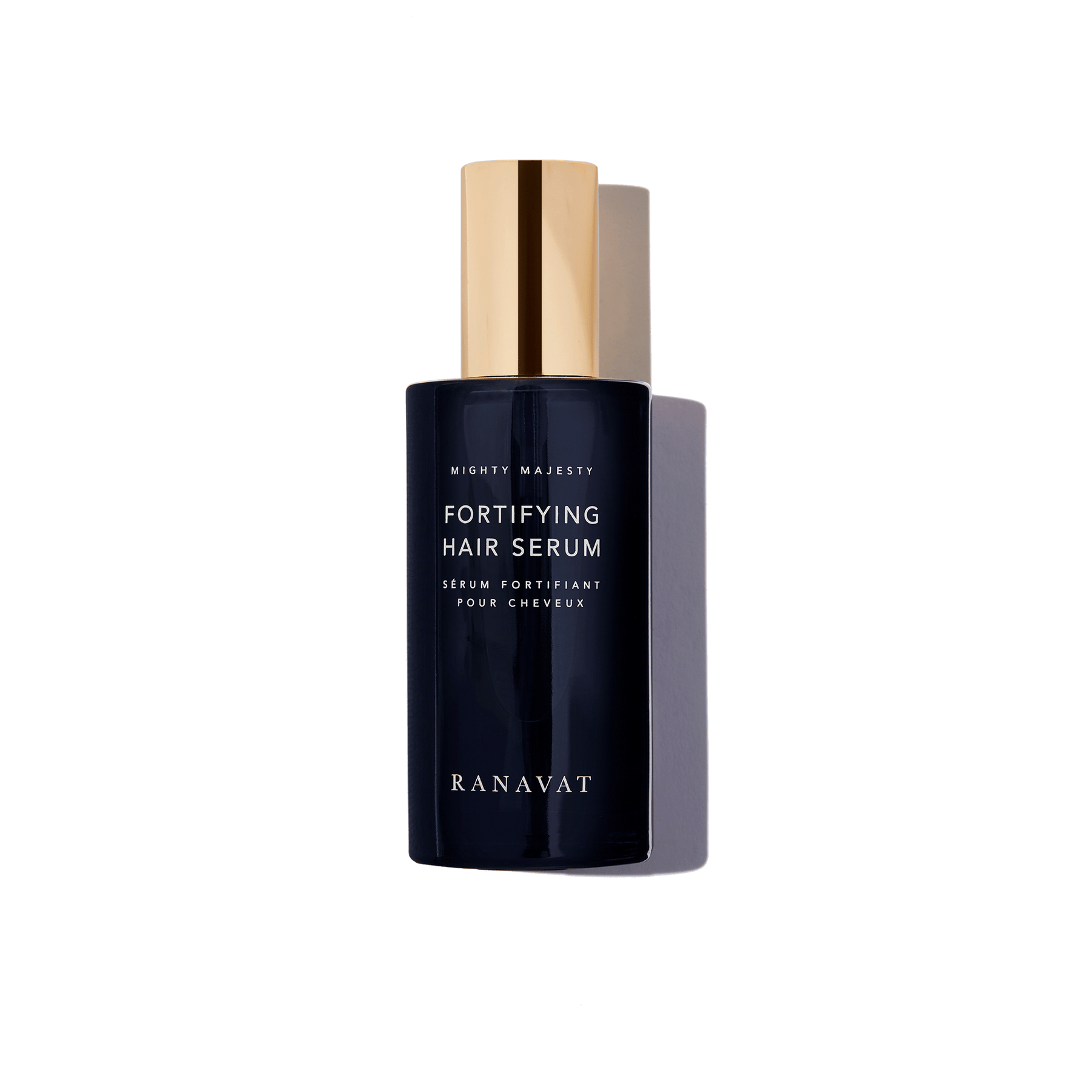 Fortifying Hair Serum
This pre-shampoo Ayurvedic hair serum works to nourish scalp health and improve hair shine. It features Amla, the Indian secret to radiant hair. This oil-based serum features Indian jasmine and doubles as a hair perfume. Use a few drops to tame frizz or indulge in a deep treatment. Shiny, healthy hair is yours!
Award Winning I Jasmine Infused I 3 ingredient powerhouse I 24 Month Shelf Life
Ingredients
Fortifying Hair Serum  
Organic Sunflower Oil, Organic Jasmine Oil and Organic Amla Extract.
The cult favorite hair serum to restore scalp health and hair shine. This powerful hair treatment that works to prevent hair damage while keeping existing strands lustrous and vibrant.
FAQ's
Will My Hair Become Oiler?
After applying Mighty Majesty, your hair will be infused with our proprietary blend of jasmine, amla, and sunflower seed oil to effectively hydrate the scalp. You are able to customize the intensity of the treatment, noting the more oil you add to the hair the more restoration. If you prefer a less intense treatment apply less oil as a touch up for increased shine. We recommend a half pump for smoothing flyaways and ends.
How Often Should I Apply?
For superior results, we recommend a weekly hair oiling ritual to hydrate the scalp and soften the strands.
What Results Can I Expect To See Immediately?
With each application you can expect to see an immediate improvement in hair shine, aiding in the refinement of flyaways.
Ayurvedic amla leaves hair shiny and nourished
GOOD FOR

All hair types (straight, curly textured)

Optimized For

Hair and scalp health

Feels LIKE

Fresh jasmine

FYI

Safe for color treated hair, Clean, Cruelty Free, Vegan
Application
Fortifying Hair Serum
Our powerful hair oil is infused with amla, a potent anti-oxidant, to reduce breakage and balance the scalp
APPLICATION
For Deep Repair: Massage a generous amount into palms working through scalp, hair and ends. Leave a few hours to overnight and shampoo as usual. To tame fly-aways smooth a small amount on hair and ends.
Hair Oiling: 101
1. Massage the Scalp. Scalp massage is hugely beneficial for optimal hair health. Start at the crown of the head and massage throughout.
2. Distribute to ends. This step helps repair damage and allows your hair to rest and rejuvenate.
3. Leave-in. Allow your skin to absorb the nutrients for a few hours to overnight.
4. Rinse + Condition: Pair with the RANAVAT shampoo and conditioner for optimal results. Wash 2-3 times to ensure all the oil is removed.
Indian Hair Secrets
Spilling the tea on how my hair transformed from bald patches to long shiny hair by using the RANAVAT Hair Serum.
"This potent serum meets oil works wonders on dry ends."
FORBES
"...the first Ayurvedic shampoo and conditioner that is clinically tested to regenerate and transform hair beginning at the root of hair health to the scalp."
THE ZOE REPORT