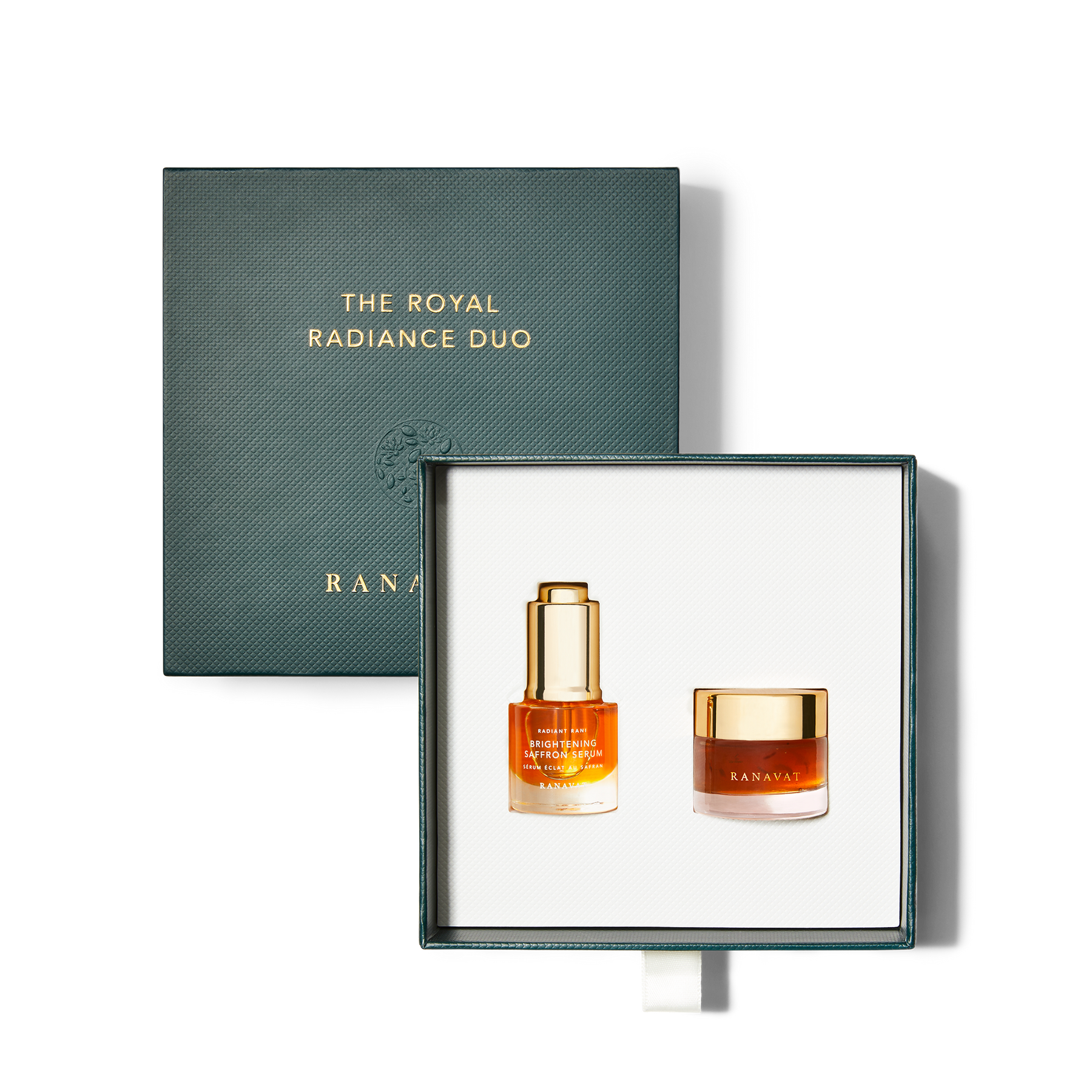 The Royal Radiance Duo
Instantly restore dull and dehydrated skin for a royally radiant glow with our deluxe mini duo set. Includes 5mL Brightening Saffron Serum + 10g Resurfacing Saffron Masque
Why You Need This
Elevate your brightening ritual with the effective 2-step treatment featuring our deluxe minis to resurface, brighten, and renew skin for a royally radiant glow.
1 x Radiant Rani Brightening Saffron Serum 5 mL
1 x Radiant Rani Resurfacing Saffron AHA Masque 8 mL
How to Use
Step 1: Resurface dead skin cells with the Resurfacing Saffron AHA Masque for a natural healthy complexion. Apply a thin layer to cleansed skin, allowing product to work for 2-5 minutes, depending on skin sensitivity.
Step 2: Brighten dehydrated dull skin with our award-winning Brightening Saffron Serum for a radiant glow
Ingredients
Brightening Saffron Serum:
Sesame Oil (Sesamum Indicum)*, Rice Bran Oil (Oryza Sativa), Caprylic/Capric Triglycerides**, Manjishta (Rubia Cordifolia)*, Saffron ( Crocus Sativus),  Lodh Tree Bark (Symplocos Racemosa)*, Nutgrass (Cyperus Rotundus)*, Vetiver (Vetiveria Zizanoides)*, Licorice Root (Glycyrrhiza Glabra)*, Bay Leaf (Cinnamomum Tamala)*, Himalayan cherry (Prunus Cerasoides), Lotus seed (Nelumbo Nucifera), Pushkarmool (Inula Racemosa), Turmeric(Curcuma Longa)*, Indian Barberry (Berberis Aristata)*, Cobra Saffron (Mesua Ferrea)*, Flame Of The Forest (Butea Menosperma)*, Priyangu (Callicarpa Macrophylla)*, Banyan (Ficus Bengalensis), Mustard (Brassica Campestris)*, Tocopherol+, Rose Essential Oil (Rosa Damascena).
Resurfacing Saffron AHA Masque:
Aloe barbadensis Leaf Juice, Glycerin**, Fruit Enzymes [ Water/Eau, Glycerin, Spondias Mombin Pulp Extract, Mangifera Indica (Mango) Pulp Extract and Musa Sapientum (Banana) Pulp Extract], Dehydroxanthan gum**, Saccharide Isomerate**, Dehydroacetic Acid, Benzyl Alcohol, Rubia Cordifolia (Manjistha), Turmeric (Curcuma Longa), Papaya Enzyme (Papain), Saffron (Crocus Sativus), Lotus Seed (Nelumbo Nucifera) and Licorice Root (Glycyrrhiza Glabra).
*Certified Organic, **Vegetable derived, +Derived from non-GMO soy
Cruelty Free I Non-GMO I Gluten Free I Palm Free I Synthetic Fragrance Free I Vegan
Ways to Enhance Your Ritual
The South Asian Blowout
"This potent serum meets oil works wonders on dry ends."
FORBES
"I noticed the difference—smoother, softer, bouncier hair—the first time I tried them."
GOOP
"...the first Ayurvedic shampoo and conditioner that is clinically tested to regenerate and transform hair beginning at the root of hair health to the scalp."
THE ZOE REPORT